PRODUCTS
Programmable Regenerative
DC Power Supply

biATLAS-D
Ultimate turnkey Regenerative Power Supply Unit
"Power Supply" and "Electric Load" are needed in power electronics development. Headspring released bi-directional power supply system "biATLAS" series for these both of application with maximized waveform quality and response performance.
Stable Power Source
Control stability and noise are the vital points in Power Electronics development. biATLAS-D has taken the utmost consider to be able to evaluate the converter with a stable waveform. We are particular and thorough about tuning control in order to output a stable waveform. With stable waveform, it is possible to reproduce the debug.
In addition, biATLAS-D design is the extend of consideration and understanding of the needs at power electronics equipment development. In the development of power electronics equipment, subtle changes in switching sound from the test subject are often caused of oscillations in control and the reason to device failure, where only skilled engineers can detect the changes of sound during experiments. increase. By adopting SiC for the power device, biATLAS-D succeeded in raising the switching frequency above the audible range and minimized the sound generated from the circuit.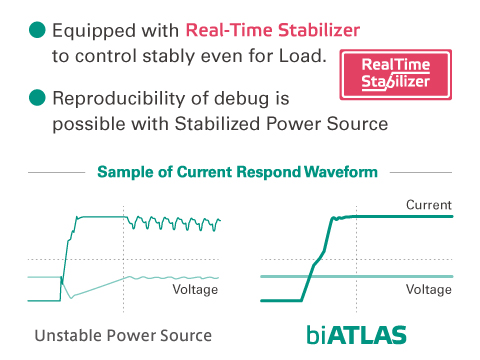 Users-friendly Power Supply
The conventional DC regenerative power supply is too large and heavy to be carried by one person even in the 10kW class.
It was necessary to secure a large storage space even when it is not in use, and it is difficult to move around and share it with other teams.
biATLAS-D makes the power supply unit smaller and lighter. The rack mount size is 1.5U at 18kg per unit enable the portability for even one person.
Therefore, even if there are sudden test requirement of 20kW the next day with the current 5kW unit, the setup of equipment is much faster than before.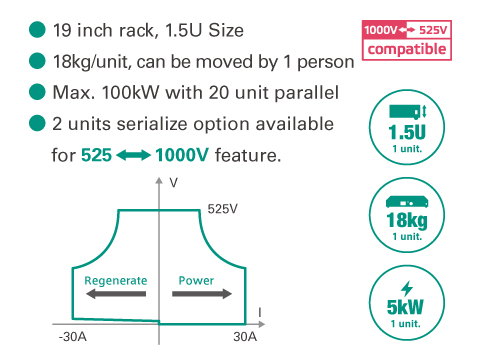 Dynamic combination with 5kW block units
Most DC regenerative power supplies have a capacity of 10 kW or more, and they are large and expensive.
DC regenerative power supply biATLAS-D at 5kW provides a combination flexibility like blocks.
The smallest capacity is 5kW, then next will be 2 units in 10kW, and the series option also available for 1000V 10kW, which can be selected according to the experimental environment. With 5kW per unit, parallel connection can be realized as standard, and series connection can be realized by purchasing an option. For instants, with two units, it provides a flexibility of "10kW 1000V 30A" and "10kW 525V 60A".。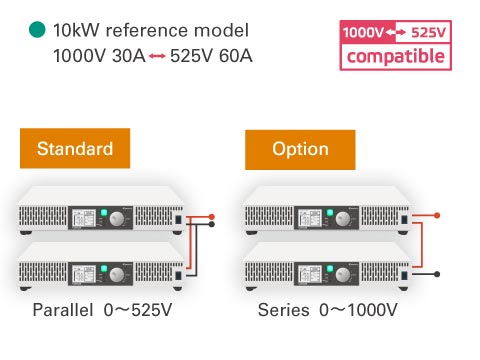 biATLAS Line-up
Regenerative Programmable DC Power
biATLAS-D525

DC Regenerative Power for HV System
Users-friendly Power Supply that made by the engineers who familiar with development.

DC Regenerative Power for LV System
biATLAS-D80

High accuracy regenerative power from biATLAS series that designed for 48V LV system usage.