PRODUCTS
biRAPID​
GaN 3 Phase Inverter
HGCB-6B-401120
GaN Inverter for MHz class high frequency switching
6 unit of GaN Systems' GaN E-HEMT are used to form a Three-Phase full-bridge inverter 3 phase full bridge inverter. An A5 size that capable of max. 5MHz switching frequency operation. Embedded with sensors that allow the Voltage/Current feedback. Can be operated as Chopper circuit or Single Phase inverter too.​
GaN Inverter for MHz class high frequency switching
Operational up to 5MHz ​
Can be used just by preparing of 24V/5V power source,
cabling and a set of controller.​
Open Concept Design​
Suitable for a various testing.​
Circuit diagram is provided as a design reference. ​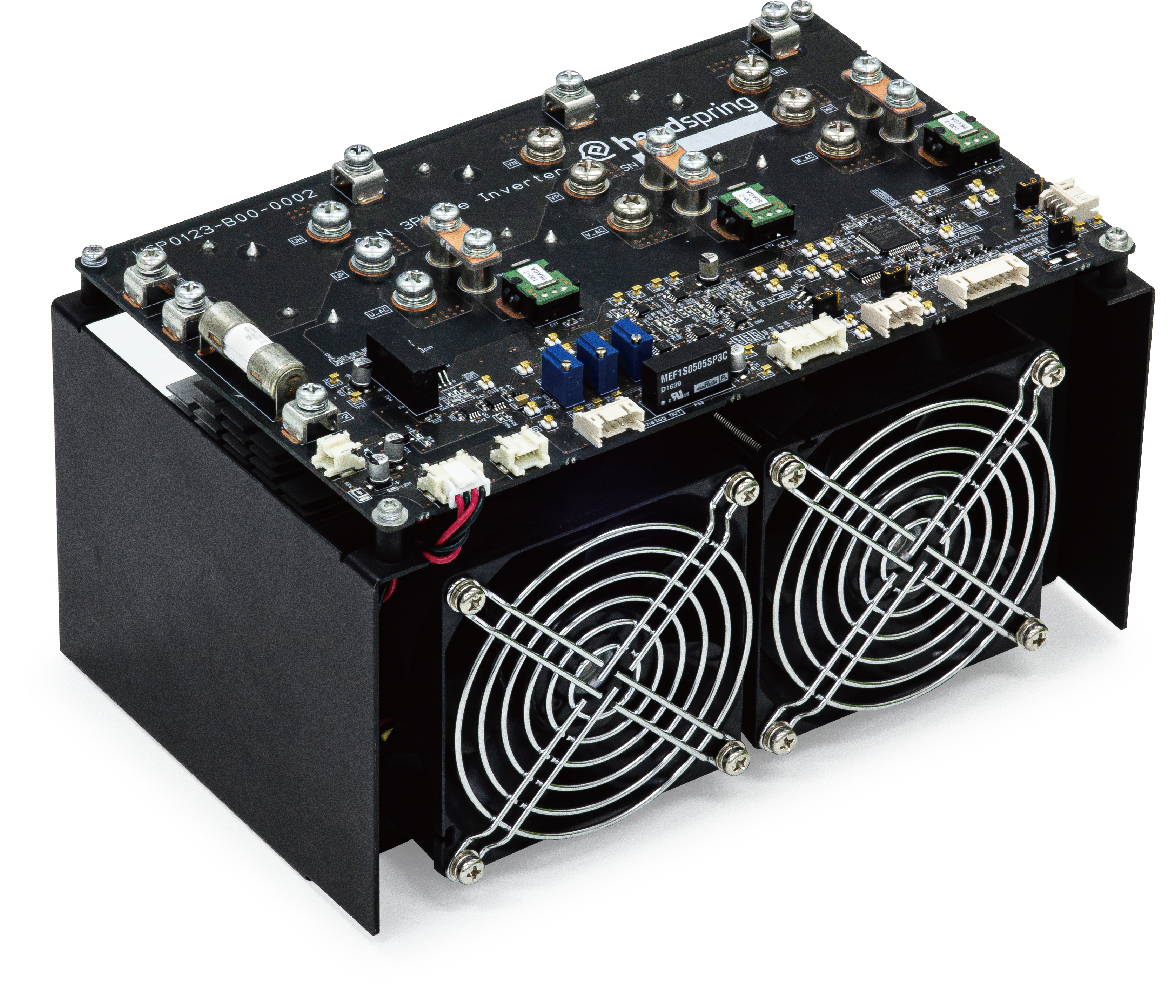 Specification (Model: HGCB-6B-401120)
Equipment size​
W:209mm​ / D:134mm ​ / H:120mm​
Excluding protrusions​
Mass​
1.9kg​
DC voltage range​
0V~400V​
P-N terminal voltage​
AC side Max. current​
~12Arms​
Derating depending on the switching frequency​
AC side rated power​
4kVA​
Switching frequency​
~5MHz​
Dead-time​
30 ns over​
Dead time generation function is not mounted.​
Arm short-circuit prevention function is mounted.​
Voltage sensor circuit​
400V / 4V​
・P-N terminal voltage​ ・Gate block when OV or UV is applied​ ・Protection threshold is adjustable with volume​
Current sensor circuit​
±50A / ±4V​
・Three-phase current​ ・Gate block on OC (peak)​ ・Protection threshold is adjustable with volume​
Control power enter 5V​
0.6A max​
Control Power Enter 24V
0.8A max​
External interface
Gating signal​
Input​
5V TTL / Negative logic / Pulled up of 4.7 kΩ at input side​
Error reset Signal​
Input​
5V TTL / Negative logic (low at reset) / Pulled up of 4.7 kΩ at input side​
Error signal​
Output​
5V TTL / Negative logic (low in error) / Protection detection output​
Analog signal​
Output​
DC voltage sensor 1 point / AC current sensors 3 points ​
Error signal​
(Error link function)​
Input/Output​
5V TTL / Positive logical / Share error information​
Reset-signal​
(Error link function)​
Input/Output​
5V TTL / Positive logical / Share reset information​